Art does not end at borders
Interview with Ingrid Roosen Trinks by the german news chanel n-tv, published on May 5th, 2023
Angeln in Schleswig-Holstein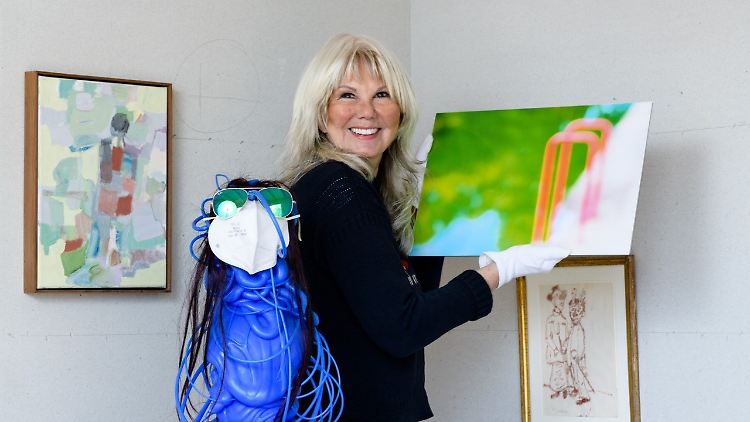 "Art is an enrichment of life and trains resilience, we do not know what else is coming," believes Ingrid Roosen-Trinks.
(Photo: Nicole Hollmann)

Art in a barn, the collector herself leads through the exhibition, the whole thing in a region that is considered an insider tip: In spring and autumn, Ingrid Roosen-Trinks shows her remarkable art collection at the Wittkielhof. A year ago she founded the association "Kunst für Angeln" (and it's not about fish!). In the future there will also be concerts and a Children's Art Club. Above all, the works of art accumulated over 50 years are not to be fading away in some warehouse. For decades, Ingrid Roosen-Trinks and her husband have had a little country hut in this landscape reminiscent of England, in the northernmost part of Schleswig-Holstein. What was planned as a haven of peace for the hectic life in Hamburg and Berlin became an important place of residence during the pandemic. The couple has given up on the location in Berlin. "There is hardly any art to be seen in Angeln," Roosen-Trinks recognized. The third exhibition "Art overcomes Boundaries" is currently running, with which she wants to strengthen the German-Danish friendship. A conversation with ntv.de about art experiences in a special barn, friendship, the passion of a collector, satisfied Danes and borders.
ntv.de: What's behind "Kunst für Angeln"?
Ingrid Roosen-Trinks: Art for all. If you want to visit the art, just send me an email and we make an appointment. It doesn't matter if you come alone or with a group.
You guide the visitors yourself, which is unusual …
I love doing that. For years I have accumulated art and I say deliberately not collected. I buy from my gut, want to get to know the artists, know everything. I have a story about how art found me and an anecdote to almost every work. Every conversation is different and new, although the content is the same. It's a lot of fun for me to carry this on, it's "art education" for me.
In spring and autumn, you open your collection for four weeks, what is the advantage of this pop-up model?
I find things more appealing when they are not permanently accessible. In the summer there are many tourist offers, I wanted to do something for the people here out of season, connect them with art. On the other hand, I don't have the money for a permanent exhibition. With my limited resources, this is now quite feasible. In addition, we work very sustainably by constantly reassembling wooden panels. So each exhibition has a different theme and a new look. This is also surprising for a returning audience.
What is the appeal of showing art in the middle of nowhere?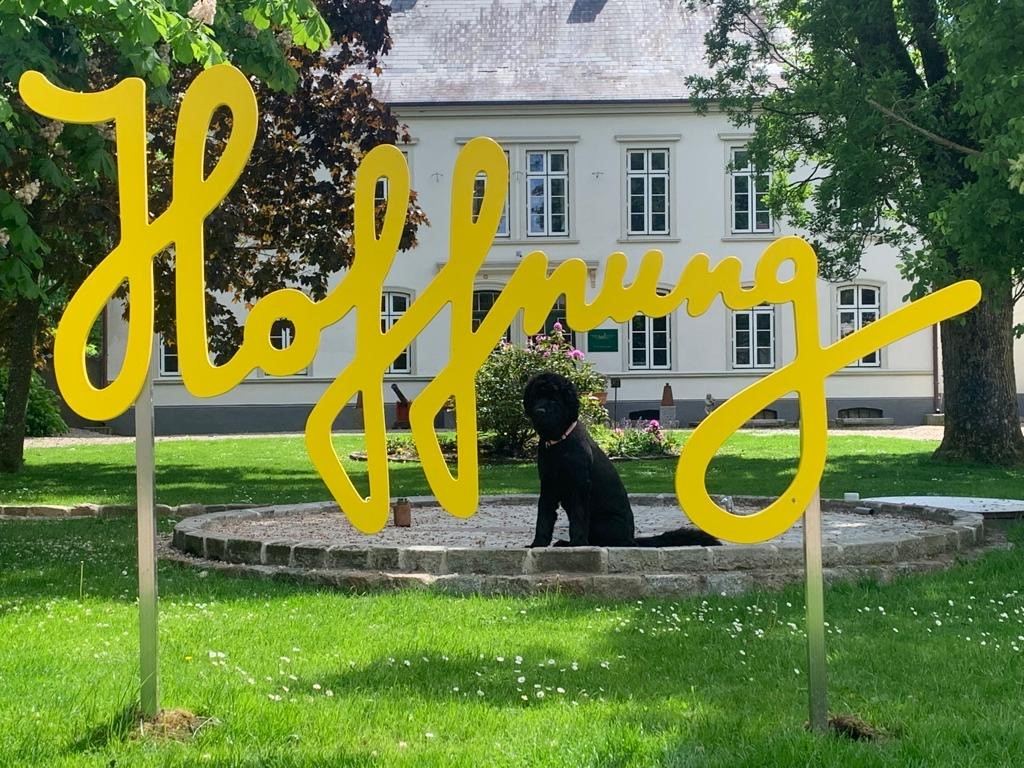 Art bridge to Denmark: Hofhund Rosa und Hoffnung, a sculpture by Rupprecht Matthies.
(Photo: Roosen-Trinks Collection)
People who tell me that art is not their thing. This is the group I want! That's why I worked at Klassik Radio in the nineties. We wanted to bring the listeners of the pop music stations over to classical music. With "Kunst für Angeln"" I do the same. Everything is low-threshold, uncomplicated, without admission and in a wonderful courtyard ambience. So those are coming for whom a museum is a barrier. The people who live here are our audience. And art enthusiasts from Germany and Denmark.
Many artists travel to the opening of the exhibitions, you are friends with many. What does friendship mean to you?
Trust and reliability over a long time. I must say, I have been married for almost 40 years. My husband was widowed when I met him. We don't have children together, but I have stepchildren. My friends are my family, and the artworks are my children.
Your professional life was full of new beginnings. You sold jeans, were a stewardess, set up a radio station, worked as a presenter and finally headed the Montblanc Foundation. How did you manage to maintain friendships during this time?
I am a communication freak, love technical developments like smartphones. It is very important that, in addition to my job and my husband, I was not involved with the classic family topics such as children, caring for parents and so on. I've been able to spend this time with my friends. That means we met in person, talked and wrote a lot on the phone. Handwritten cards reinforce the feeling of friendship. Besides, you don't have to see each other all the time. It is enough to simply pick up where you left off after months or even years. The value is so important to me because social media like Facebook used the term "friends" so inflationary.
Relationships or friendships with artists are just as important to you …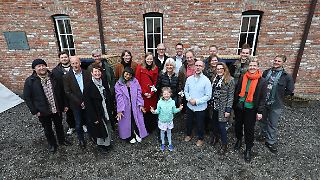 Many artists came to the last exhibition opening. It's a pleasure to cultivate friendships.
(Photo: Ibo Ort)
This is a purely selfish motivation – for me, art is simply an enrichment of everyday life. Through direct contact, I also discover new artists.
Is collecting art addictive?
When I prepare an exhibition here and finally see the pictures being set up, euphoric waves pass through me. In art, but also in music, I need happiness. Our global political situation is already burdening everyone hard enough. After 50 years of amassing art, I know that art enriches life and broadens horizons. I need them so I don't lose my optimism. When I can put a smile on other people's faces with artworks from my collection, it makes me happy.
What makes the Wittkielhof so special?
Apart from being located in one of the most beautiful regions of Schleswig-Holstein, we are very happy that we can show contemporary art twice a year in a historical place. The barn was rebuilt in memory of Asmus Petersen. The native Wittkieler was a landowner, farmer and above all a visionary. Around 1850 he invented the first wind turbine and built irrigation systems for fields.
With the third exhibition you also celebrate your one-year anniversary and show young art from Schleswig-Holstein and Denmark. Why do you want to work even more cross-border in the future?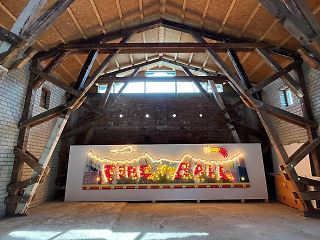 "The Fireball by Stephen Craig comes into its own here," says the collector.
(Photo: Roosen-Trinks Collection)
Here in the countryside there is simply too little art shown, especially by artists from the border region. There's a lot to learn from the Danes. Togetherness and satisfaction are words of value in Denmark. Together with the Finns, the Danes are the happiest people ever. I don't speak Danish, but the understanding of music and art works perfectly.
Hence the title of the exhibition "Art overcomes boundaries"?
Yes, the title is in English, because everyone understands it, even beyond the border. I don't like the word border – delimiting is not mine. I would like to bring Danes here and, conversely, I would like us Germans to discover the museums, art schools and studio spaces in Denmark almost 50 kilometres from here. It is fantastic what there is to discover for a lively museum landscape. Art doesn't end at the border.
What are your own limits?
It's about finances. I would love to give the region a museum, but I can't do that. Instead, I focus on what is within my capabilities and hope to inspire others to do the same.
With Ingrid Roosen-Trinks talked Juliane Rohr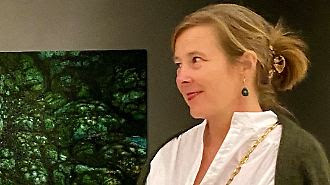 Juliane Rohr is an author, loves art and writes about it – knowing that beauty lies in the eye of the beholder. The stories and people behind the artwork, that's actually her art form.
The exhibition "Art overcome Boundaries" runs until May 14th. Ingrid Roosen-Trinks will be your personal guide.
Wittkielhof, 24409 Wittkiel, please register here:: visit@kunstfuerangeln.de
---