ART FOR Children
CONCEPT:

STATUS:
In the northernmost part of Schleswig-Holstein, on the Angeln peninsula, between the Schlei and the Danish border, there is no private art collection that is open to the public. Neither for students nor for adults or for children, with private art tours, without admission, in a private, rural setting. To change this, the association KUNST FÜR ANGELN e.V., which brought the collection ROOSEN-TRINKS from Berlin to the Wittkielhof in Anglia, offers programs for everyone – but especially for children.

THE IDEA:
The ROOSEN-TRINKS collection consists of more than 500 works of contemporary art – from sculptures and collages, videos, installations, photographs to classical painting: artists which the collector Ingrid Roosen-Trinks knows almost everyone personally and with whom she has been close friends for years. This situation offers the best conditions to enable children, with the help of artists, to access works of art in a playful, uncomplicated and cheerful way. HOW? By means of workshops in which artists personally explain their works in the collection and in which they encourage the children to draw or reproduce these artworks together.
In addition, the children are inspired – under the guidance of the artist present – to create their own works of art. The workshops usually start on Sundays at 12:00, last about 2 hours and consist of 8 -12 children between 5 and 14 years, together with the artist, the collector Ingrid Roosen-Trinks and the educator Christa Fricke from Angeln.
All works created in the workshops will be exhibited by the children in a specially created art space on the Wittkielhof (planned).

For the exhibitions of the children's artwork:
• Children design the invitation cards
• They invite children other than guests
• Children determine the hanging or installation of children's works of art (curators)
• Children guide the guests, visitors, art lovers, press representatives personally through the exhibition
• They announce the dates of future workshops to children
• Children will be planning the workshops for the coming years
• Children will design flyers/brochures for the upcoming workshops.


Through these program offers, paths are shown through which children get a playful access to art. In this way, bridges can be built to other generations, because the view of children can also help adults to better understand art. The childlike view opens – especially for adults – new worlds and creates other narrative levels and thus gives new perspectives on our everyday life and on life itself. The unbiased, often surprising and unsolicited questions and comments of the children can give a completely new view of existing works of art. Ingrid Roosen-Trinks is always enthusiastic and inspired when she hears reactions like those of an 8-year-old: He said he believes he will one day become an artist, because art is so full of secrets. Then you realize how much art can change. And what an enrichment it is – especially for adults – to let children interpret the art!
We plan to offer at least 2 workshops per year.

Information regarding the association KUNST FÜR ANGELN e.V. as well as dates for guided tours and workshops for children:
www.kunstfuerangeln.de

Registration for guided tours and children's workshops:
visit@kunstfuerangeln.de


---
workshop with Malte Urbschat, May 2022
The first Children's workshop was held by the Artist Malte Urbschat Sunday the 22th May2022… READ MORE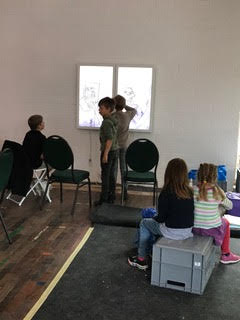 ---
workshop with RUPPRECHT MATTHIES, OCTOBER 2022

The second workshop for children, organized by the association Kunst für Angeln, has taken place on October 23rd. Together with the artist Rupprecht Matthies and our young participants, we have worked with art and language for one day. First, words were collected in a joint brainstorming session, which could be associated with the topic of "city and country". The participants choose their favorite words – these were written, painted and also became stencils made of paper, with the help of which they were transferred to different materials. With expert guidance, word sculptures and collages were created with fret saw, scissors and many colors, encouraging and intensifying the participant's art experience.
Rupprecht Matthies studied sociology at the University of Hamburg and then art at the Hochschule für bildende Künste in Hamburg. He is a laureate of the Saxon Art Prize for Tolerance and Democracy. In 1996 he created his first word sculptures, word mobiles and word paintings. His works are in international demand and have been exhibited in the Denver Art Museum, the Museum of Modern Art Carinthia, Klagenfurt and the Hamburger Kunsthalle.
Matthies is interested in people, communication and social interaction. The studied sociologist sees himself as an artistic service provider who is commissioned to lend plasticity and expression to social and communicative processes. Works by Rupprecht Matthies can of course also be found in the Roosen-Trinks collection.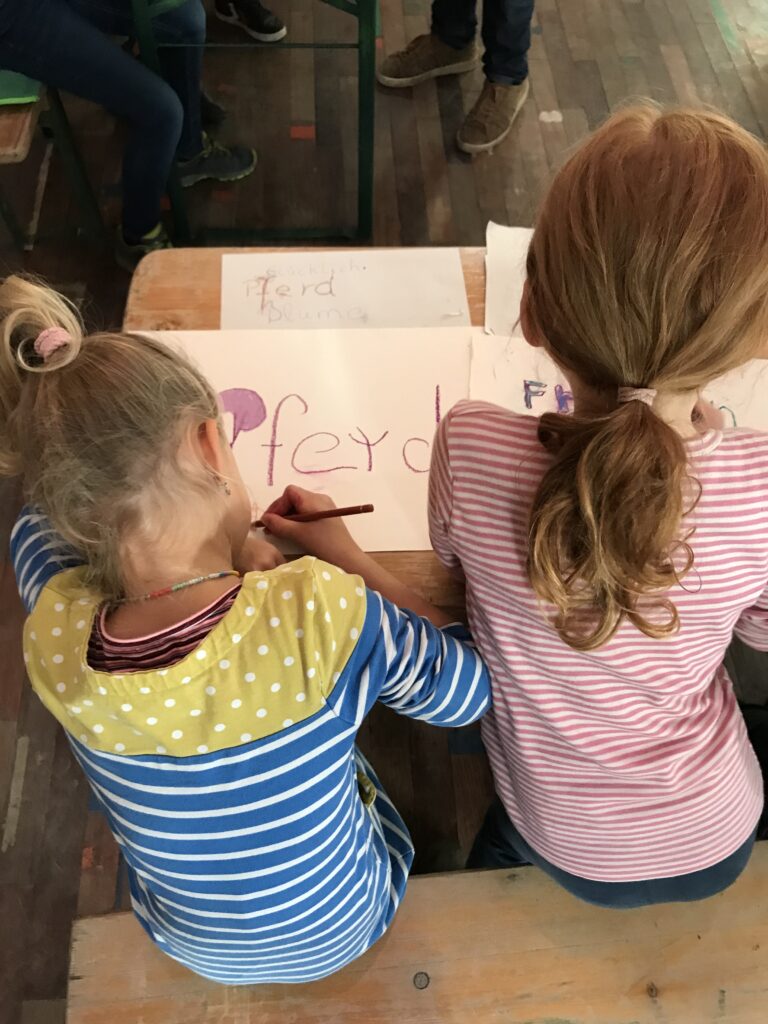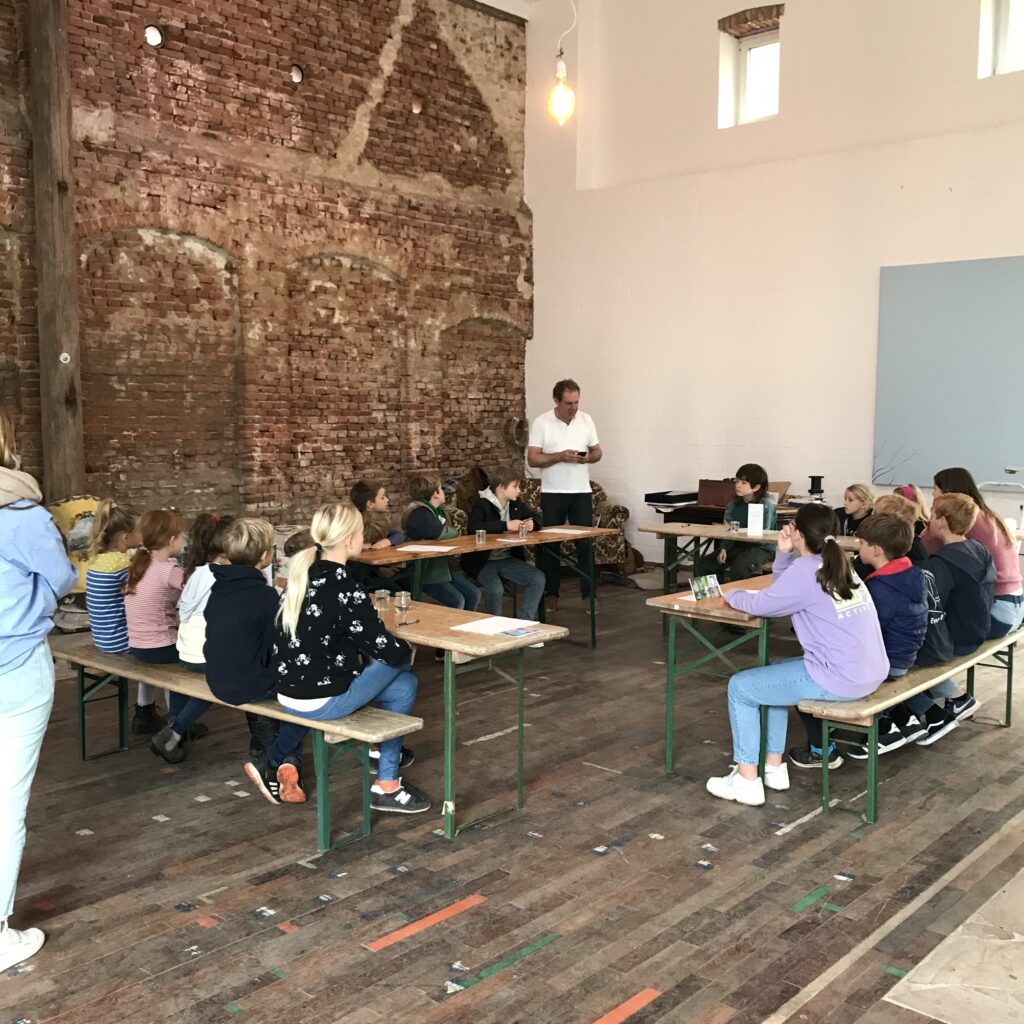 ---
preview 2023:
April 23 – Children's workshop with the artist Henrik Becker
September 24 – Children's workshop with the artist Malte Urbschat